It's that time of year when we start thinking about the cost of heating our homes in the winter. Adding insulation, whether it's the pink fiberglass insulation or blown in cellulose can help retain the heat you're paying for.
Bill and I wanted to remind you to be careful about how you install insulation.
One of the most dreaded situations to encounter while selling your home is moldy boards in the attic. Even if the mold-like substance is sparse, this can cause buyers to question whether or not to move forward with the transaction.
Fortunately we have a FANTASTIC mold remediator. George Zendt at Attic Pros knows his stuff and has a crew that knows how to encapsulate the mold and fix the ventilation.
It would be MUCH better to avoid the problem entirely. When you're adding R-value you need to be careful NOT to inhibit the roof's ventilation. Make sure that when you add insulation that you keep the soffit vents free so that air can get into the attic. If air can't circulate throughout the attic, then the attic becomes a great place for mold to grow.
The pros recommend that you use baffles to keep the soffit vents clear. Baffles keep the soffit vents open and guarantee that the insulation won't move and restrict the attic's airflow.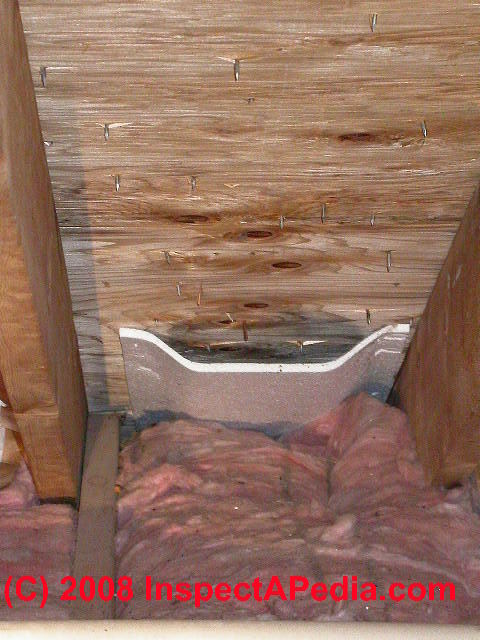 We've seen countless cases where homeowners or contractors have covered the vents and created mold.
If you out-source the work, make sure to go into the attic yourself, or call an inspector to go into the attic for you. I'm sure Brian Bishop at Insight Inspections (586-232-4231) would be happy to do a quick inspection of your contractors work.
FYI-We saw one case where a homeowner had paid for a new roof with a ridge vent. The roofing contractor forgot to cut the ridge vent. Mold developed. NOT GOOD.
Experience Matters! If you have a question about buying, selling or investing in real estate, give us a call. We're the Minor McBride Team at Real Living Kee and you can reach us at 586-250-3220 or at joyce.mmt@gmail.com.